Dear DAPS-Peepcoin community members,
Thank you so much for your vote this last 24 hours. We now have the end results of the vote as been determined by you and for the future of DAPS moving forward.
The results on the second snapshot is NO as seen in the screenshot below: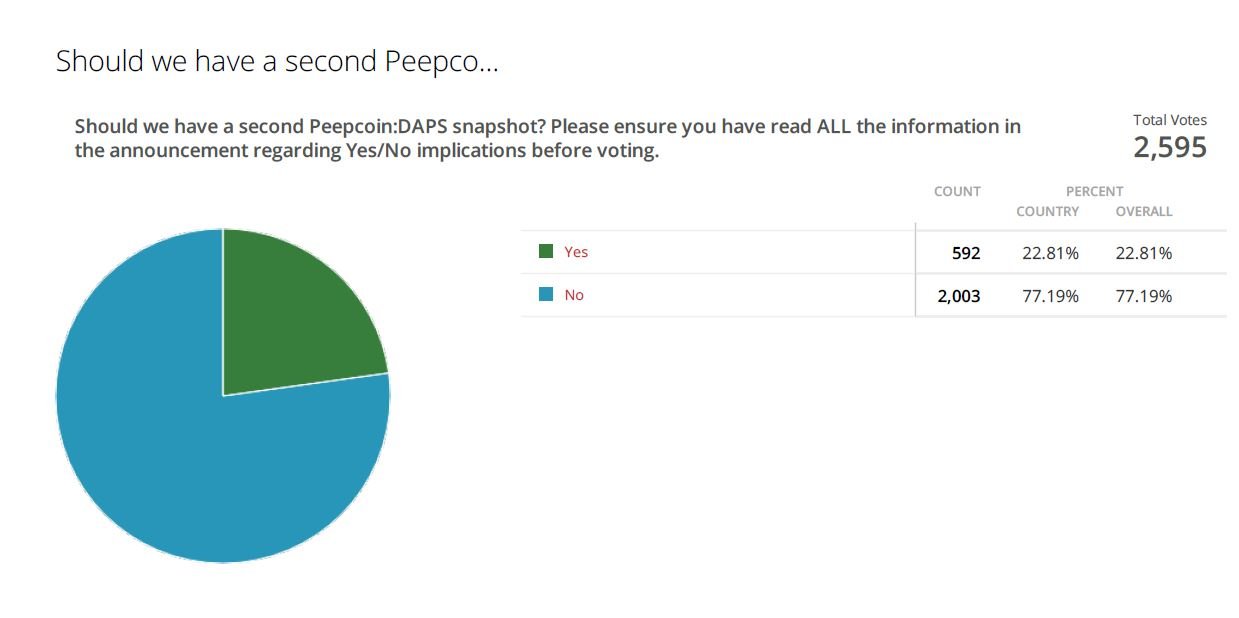 ---
---
You have your Peepcoin and will also now have DAPS tokens if you held Peepcoin on block 1120535, or 06/27/2018 at 02:00 UTC.
---
---
What does this mean moving forward?
The ERC20 DAPS Token will go live and the airdrop process will begin within the next week.
You will get 1:1 PCN:DAPS Token if holding Peepcoin on the snapshot date/time.
---
---
Total supply of the DAPS token will be:
60 Billion
56.7 Billion is the total of current Peepcoin supply, as seen here: https://chainz.cryptoid.info/pcn/
56.7 Billion DAPS will be allocated to "Peepcoin snapshot" holders.
Blacklisted wallets will be redistributed amongst snapshot holders, with 10% going to DAPS development fund.
The extra 3.3 billion is for full-time DAPS development and for expanding the scope of the project as well as facilitating quicker exchange listings.
---
---
What do you need to claim your airdrop?
To prove your Peepcoin holdings on the airdrop snapshot, you will need to fill out a Google form with required information proving you had a positive Peepcoin balance on 06/27/2018 02:00 UTC.
If using a personal Peepcoin wallet, you must provide the Peepcoin address and a picture of your balance and transaction screen. You MUST hold onto your Peepcoin wallet.dat file in order to prove your holdings at that point in time.
If using an "exchange" Peepcoin wallet, you must use the email you signed up to the exchange for and provide other information to prove your holdings on that exchange at that time. Details of this process will be released in the next update.
---
---
How will the airdrop work?
We will have a Google form where you enter the above information as requested. This will be used to check the balances on the snapshot and then allocate your DAPS tokens. You will need to set up your DAPS token address on a ERC-20 compatible wallet before claiming your Peepcoin-DAPS token airdrop.
---
---
We will have a full blog and further easy to follow instructions on this process soon. Please stay tuned for that blog to be released before the airdrop process begins.
As an apology, we are going to distribute an extra 100,000 DAPS tokens to each individual Peepcoin holder from the snapshot.
We thank you for your understanding and support in these challenging times.